3D Printer - Creality 3D Ender-3 V2 - 220*220*250mm
3D Printer - Creality 3D Ender-3 V2 - 220*220*250mm
Brand:
Creality
SKU :
FP-2014
Availability:
Out of stock
295.00€
299.90€
Ex Tax:

237.90€
Construction an Technical Details
Usable Nozzle Type: MK8
Usable Filament Diameter: 1,75 mm
Nozzle Temperature: Max 250 °C
Open Filament System: Yes
Extruder Type: Bowden
Printing Speed: Max 100 mm/s (depends on material)
Build Area: 220 mm x 220 mm x 250 mm
Heated Build Plate: Yes
Build Plate Temperature: Max 100 ºC
Build Plate Material: Carborundum glass plate
Build Plate Attachment: clamp
Build Plate Leveling System: manual Leveling
Build Chamber During Process: Open
Extruder Number 1
Installation Space / Requirements
Total Mass: 475 mm x 470 mm x 620 mm
Total Weight: 7,8 kg
Operating Ambient Temperature: 5°C - 45°C
Voltage AC: 115 V / 230 V (50/60 Hz)
Equipment
Connection
Memory Card:Yes, micro-SD
Accuracy
Layer Height: 0,1 mm - 0,4 mm
Resolution: 0,1 mm
Shipping
DESCRIPTION
Creality's Ender-3 V2 has long been one of our favorites when it comes to affordable FDM 3D printers. Sure, it's far from perfect. But at this lower price, it offers a decent print volume, is easy to assemble and improve, and can produce high-quality prints.Creality sets a new baseline for budget 3D printing. It's the same old Ender-3 3D Printer experience, improved with current hardware that includes a 32-bit mainboard, silent stepper motor drivers, a much cleaner appearance and design, plus plenty of other, smaller, touches.
NEW FEATURES
Creality Ender-3 V2 3d printer has the same delicate appearance as the DIY 3d printer kit Creality Ender-3. Integrated all-metal body inherited from its predecessor Creality Ender-3 3d printer, firm and stable. With Integrated structure and modular design, the power supply is concealed in the machine, it's more convenient and safer for you to operate.
Creality Ender-3 V2 3d printer equipped with the Carborundum Glass Platform as always. The platform enables the hotbed heat up quicker and prints adhere better without the warping. So you will see the ultra smoothness even on the first layer of the model.
Creality Ender-3 V2 3d printer is equipped with a new self-developed silent motherboard.It has stronger anti-interference, faster and more stable motion performance, silent printing, and low decibel operation.Therefore, when you print the model at night, please don't worry, it will not disturb your rest. So that not only you can have a good night, but also you can print the exquisite model.
Creality adds a rotary knob on the extruder to operate conveniently.And what's more, we need to press the extrusion clamp to feed-in, sometimes, the extrusion clamp is easy to be broken, so the rotary knob is a very friendly design.
Creality Ender-3 V2 DIY 3d printer also adds the toolbox under the hotbed for better organized.Because many people give feedback about the upgrade of the printer. They said that the screws or other small tools are often lost.And the toolbox will be very helpful for people.
Creality Ender-3 V2 3d printer changes the previous screen into a 4.3 inch HD color screen.And upgrades the user experience with the newly designed operation UI system. It's simple and quick to operate.Also, this color screen can remove easily to repair, which saves a lot of time and energy.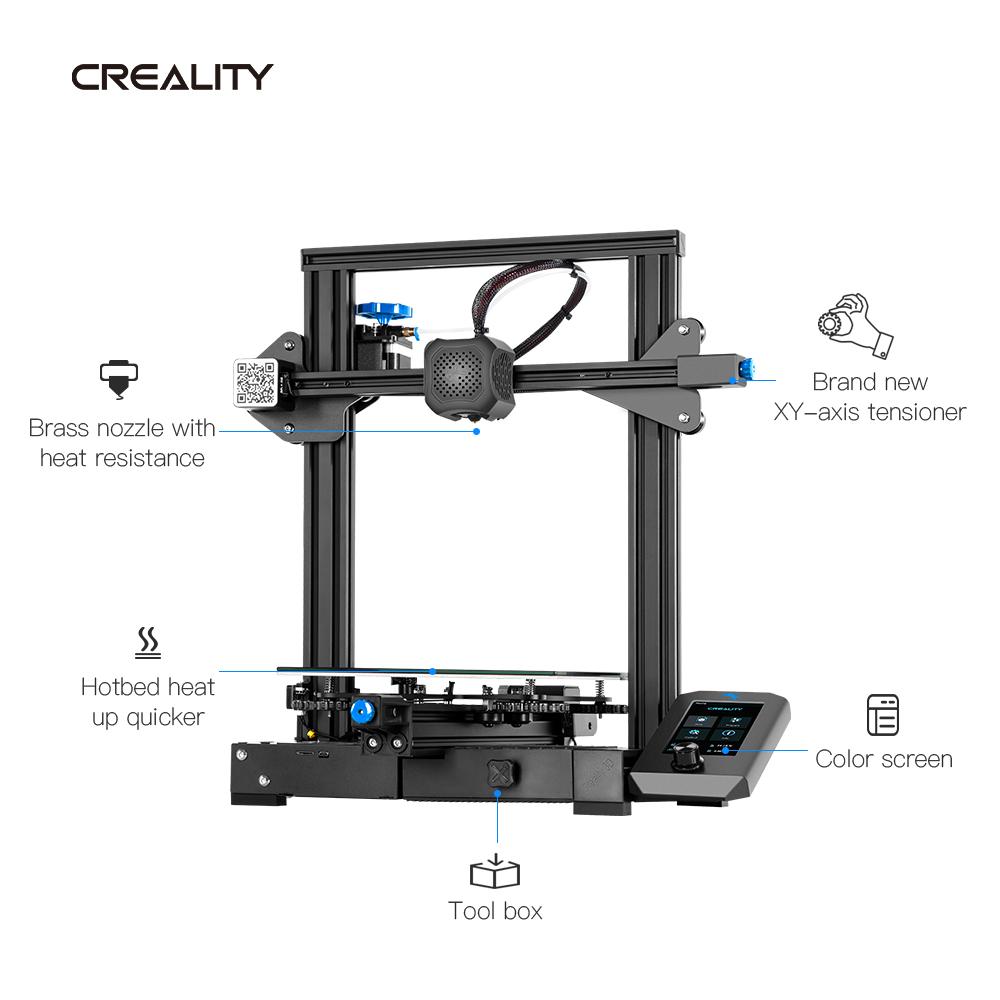 VIDEO